Salomon Esquenazi MD
Dr. Esquenazi, is a highly accomplished ophthalmologist, sub-specialist in cornea, cataract and refractive surgery, with more than 35 years experience in providing examination, diagnosis, and treatment for the full range of medical and surgical conditions affecting the anterior segment of the eye.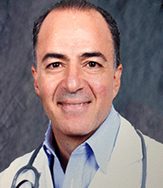 Originally from Colombia, Dr. Esquenazi founded the Olsabe Laser Center in Bogota, where he served as medical director from 1994 until 2002. Seeing as many as 70 to 80 patients a day and performing as many as 2000 laser vision correction surgeries each year, Dr. Esquenazi was able to build and grow a successful practice, further solidifying his efficacy in providing quality patient care.
Dr Esquenazi obtained his medical degree from Colegio Mayor de Nuestra Señora del Rosario in Bogota Colombia. He completed his internship at Hospital San Jose and went on to obtain his residency in Ophthalmology from the Barraquer Institute of America, where he worked very closely with Dr. Jose Barraquer, the father of modern refractive surgery.
He then repeated his training in the United states. He completed his internship in internal medicine at the Ochsner Clinic Foundation and an ophthalmology residency at Louisiana State University in New Orleans. Finally, he completed a fellowship in cornea, cataract, and laser refractive surgery under the supervision of the renowned professor Herbert Kaufman in New Orleans.
Prior to his tenure as an ophthalmologist in South Florida, Dr. Esquenazi was appointed Research Assistant Professor of Ophthalmology and Neuroscience at Louisiana State University in 2004. Dr Esquenazi served as principal investigator and had a grant awarded by the Centers of Biomedical Research Excellence funded by National Institute of Health and National Eye Institute through 2010. Dr Esquenazi received the Chancellor's Award and Lecture from the Louisiana State University Neuroscience Center of Excellence for " His outstanding academic leadership and key contributions to our understanding of corneal wound healing and the establishment of transitional corneal research". Dr. Esquenazi's extensive and highly specialized background will enable him to maintain and enhanceᅠ his contributions to the field of ophthalmology.

He is well recognized for his academic appointments, accolades, numerous published manuscripts and as medical director of Airala Laser and Cataract Institute since 2012. He is a member of the American Academy of Ophthalmology, American Medical Association, American Society of Cataract and Refractive Surgery, Association for Research in Vision and Ophthalmology as well as American Society of Ophthalmology and Optometry.

Dr. Esquenazi is enjoys spending time with his wife and his 3 children. He enjoys breaking a sweat at Orange Theory Fitness and watching the New Orleans Saints play on Sundays.